You can use OrbitRemit to transfer money to someone in the Philippines who wants to collect it as cash from a physical location.
Step 1: Get recipient information
To make a transfer to a person in the Philippines for cash pickup you will need the following information for them:
Full name
Date of birth
Address
Email address
Mobile number
Once you have the required information you can begin the process.
Step 2: Create a transfer
If this is your first time, you can read our guide to creating your first transfer:
Learn how to create a transfer
Step 3: Create a new recipient
For first time cash pickups you will need to create a new recipient, even if you have sent to their bank account previously.
When creating the recipient, select 'A person who will collect funds' as the type of person you wish to pay.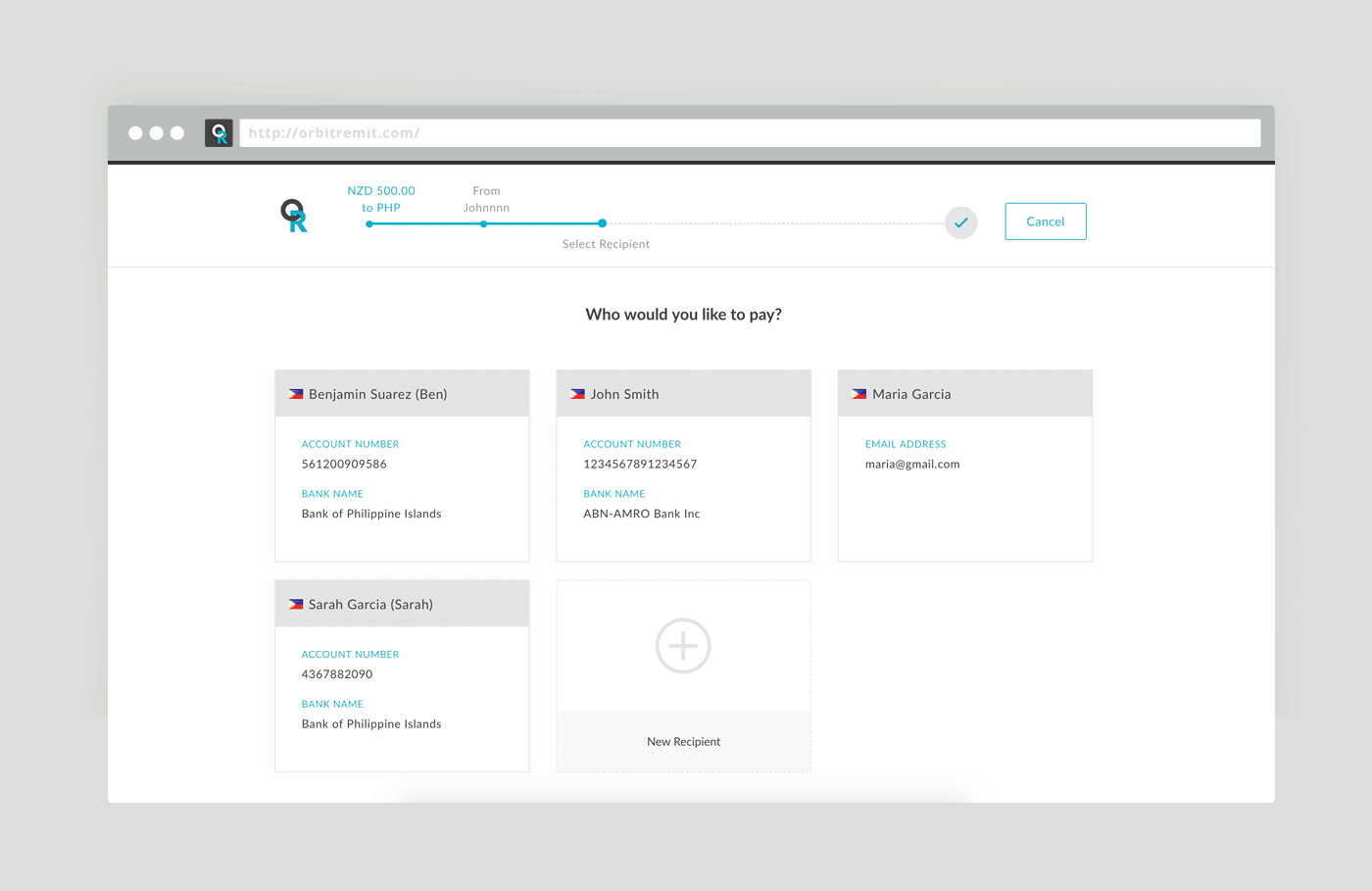 Step 4: Pay for your transfer
Once you have completed the transfer details you will be given the details of how to pay. To ensure your transfer is processed without delay it is important that you pay as soon as possible. All the details you need will be provided once you have finalised the transfer.
Learn how to pay for your transfer
Step 5: Cash collection
Once we receive your payment we will release your transfer for collection by your recipient. If you have provided a valid mobile number we will contact your recipient to let them know that the cash is available to collect.
Where can cash be collected from?
Metrobank:
Transfers up to PHP 500,000.00
Cash collected from Metrobank (any amount over PHP 250,000) will require OrbitRemit and/or Metrobank to collect additional information to ensure compliance with Anti Money Laundering obligations in the Philippines.
PSBank:
Transfers up to PHP 250,000.00
LBC Express:
Transfers up to PHP 100,000.00
Robinsons Department Store:
Transfers up to PHP 100,000.00
M Lhuillier Pawnshop:
Transfers up to PHP 50,000.00
Palawan Pawnshop:
Transfers up to PHP 50,000.00
Globe GCash Outlets:
Transfers up to PHP 30,000.00
Cebuana Lhuillier Pawnshop:
Transfers up to PHP 30,000.00
RD Pawnshop:
Transfers up to PHP 100,000.00
Acceptable Identity Documents
Passport
Driver's license
Professional Regulation Commission (PRC) ID
National Bureau of Investigation (NBI) Clearance
Police Clearance
Postal ID
Voter's ID
Barangay certification Government Service and Insurance System (GSIS) e-Card
Social Security System (SSS) card
Senior Citizen Card
Overseas Workers Welfare Administration (OWWA) ID
Overseas Filipino Worker (OFW) ID
Seaman's Book
Alien Certification of Registration (ACR)/Immigrant Certificate of Registration (ICR)
Government office and GOCC ID (e.g., Armed Forces of the Philippines (AFP), Home
Development Mutual Fund (HDMF ID)
Certification from the National Council for the Welfare of Disabled Persons (NCWDP)
Department of Social Welfare and Development (DSWD) Certification
Integrated Bar of the Philippines ID
Company ID issued by private entities registered with or regulated either by the BSP, SEC or
Insurance Commission
Student ID duly signed by the principal or head of the school
Important details to note:
Your beneficiary must provide the correct transfer reference number to be able to collect the cash. This reference is provided once you have created a transfer and will also be sent, via SMS, to your recipient.
Please ensure the mobile number provided for your recipient is valid, so we can contact them as above.
Your recipient will need to present valid photo identification to be able to collect the cash. For transfers over PHP 250,000 they will need to present two forms of photo ID. You can view a full list of acceptable identity documents above.